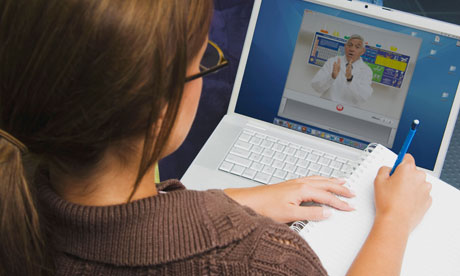 While Moocs are on the rise in the US, little has happened in the rest of the world, with the exception of Futurelearn, the Open University partnership consisting of 17 UK universities, as well as the Berlin-based iversity. At European Union level, there have been reports about talks at the European Commission, but little action has been taken so far.
In May 2012, WiredAcademic reported that the EU's Erasmus programme might soon go online – a good start if we want to see the equivalent of Coursera on this side of the Atlantic. But this does not go far enough.
[snip]
What is missing from the equation is an institution that would not just bring together individual universities in Europe, but would be European in essence. At the moment there are no genuinely pan-European higher education institutions, apart from a few niche institutions in Warsaw, Florence and Bruges, specialising in postgraduate research.
[snip]
Europe and the rest of the world
A European Mooc will need to have its own brand name, degree awarding powers and a viable business model that would attract international students, not just Europeans. Students should have the option to combine online and in-campus education, perhaps by splitting their on-campus time across two or even three countries, as with international dual degrees.
[snip]
Why does Europe need a Mooc?
There are many reasons – one is that this might be the only means of survival for smaller universities. Even before Moocs became a part of our lives, there was speculation about the imminent shrinking of the industry, with only a bunch of universities around the world, perhaps not more than 50, surviving the next few decades. What was speculation now seems inevitable, as access to online courses reduces demand for on-campus education at mid-tier institutions.
[snip]
Finally, a European version of Coursera might spark in Britain a debate similar to the one about the UK's membership in the European Union. A European university without a few reputable UK institutions would be a halfway house. Chances are that some of them would be glad to join a partnership including Sorbonne, Freie Universitat and the like. Would this create a split across the UK sector between Europhile and Futurelearn institutions?
Source and Full Text Available At
[
http://www.guardian.co.uk/higher-education-network/blog/2013/mar/28/european-mooc-opportunities-challenges
]