What Do Massive Open Online Courses Mean for the Future of Higher Education?

The MOOC Business Plan

With MOOCs still mostly free, course providers are searching for a viable business model.

Blended MOOCs: The Best of Both Worlds?

Combining in-class instruction with MOOC content may resolve some common MOOC hurdles

Assessment Tools for MOOCs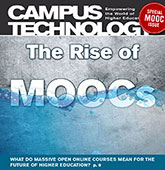 As MOOCs are made available for credit, scalable assessment options are essential.

How to Convert a Class Into a MOOC

The sheer size and diversity of the student body in a MOOC require a new approach to teaching.

Building a Sense of Community in MOOCs

Massive class sizes can breed feelings of isolation, but they can also enable more student interaction.

cMOOCs: Putting Collaboration First

Alternative MOOC models are fostering creativity and collaboration with peers.
Source and Full Text Links Available At: